Description of the Encyclopedia of Networking and Telecommunications
View page layouts
View the complete topic list for the book
Sample Topics:
Read more reviews of the third edition (2001)
Read reviews of the second edition (1997)
Download
Download the electronic version of the The Encyclopedia of Networking, 2nd edition (1997). It's free!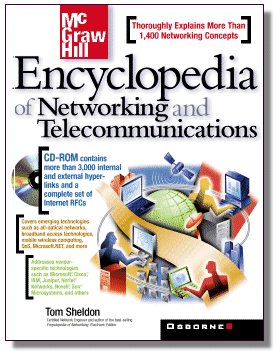 Book description from the publisher:
The Most Complete Volume of Networking Technologies Available Authoritative and up-to-date, this all-encompassing book and CD-ROM package is filled with thousands of explanations and analyses of core and cutting-edge networking and telecommunications topics­­from Abilene to QoS to ZAWS. Extensive cross-referencing throughout helps you understand the relationship among the technologies. This is a must-have resource for every network professional, as well as technology investors, marketing managers, head hunters, technology writers, and anyone interested in networking. The book also includes the most comprehensive guide to the Internet engineering documents (RFCs) available today. The McGraw-Hill Encyclopedia of Networking & Telecommunications reflects the latest in networking and Internet technologies.
On the value-packed CD-ROM
Complete, fully searchable version of the book with thousands of hyperlinks to related topics in the book
External hyperlinks to author-selected Web sites for further information
Links to the author's Linktionary.com Web site, which has additional information and updates
Illustrations of complex networking topics
A complete set of Internet RFCs that are quickly accessible via hyperlinks throughout the electronic version of the book.

"What do we love about this new Third Edition? The clarity. These definitions are utterly unambiguous. The depth. Sheldon tells you enough to take the next step (whether it's participating in a meeting or planning a purchase). The breadth. There are well over 1,400 definitions here." ...more... The Barnes & Noble Review
"The material is quite up to date: surprisingly so, given the scope of the work. The similarly sized, CD-ROMed, and priced "Microsoft Encyclopedia of Networking" does not compare in range of topics, quality of research, or depth of coverage: Sheldon wins on all counts. I have no reservations about recommending this work as a useful communications reference." Robert Slade, independent book reviewer.
"I have never spent this much time reading an encyclopedia. ... To be honest, I can't stop reading it. I have yet to encounter anything like this book because it acts as a clearinghouse for technical information." Jim O'Shea. Review at Amazon.com.
"This book and the CD is a great reference for CIOs, CTOs, Engineers, and Managers. The chapters are well-written, instructional without being boring. I haven't figured out a way to start a chapter and read it end-to-end because I keep hitting topics that I want to refer to in other parts of the book to learn more - but that's a good thing." Jeff D. Donaldson. Review at Amazon.com.
"I highly recomment this book." Dr. Jack Sassard
See more reviews of the third edition.
See reviews of the previous edition.