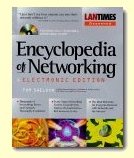 The Encyclopedia of Networking, Second Edition had a great run and many favorable comments.
Read on:
The Encyclopedia of Networking is an outstanding reference manual. You didn't hit a home run with The Encyclopedia of Networking, but a grand slam.  --Jay Riccitelli, Mgr. Network Operations, Computer Sciences Corp.
The Encyclopedia Of Networking Is The Modern Day Chilton's. Moby Dick Of Digital Pirates, The Helm [administrator@digitalpirates.com]
The book is massive! It will be used frequently and often. I really appreciate the abilities provided by having the Encyclopedia on CD-ROM. I wish more books, especially reference books were on CD-ROM as well as print. --Danny J. Stevens, Information Systems Support, Sr. Microcomputer Specialist, IEEE (Institute of Electrical and Electronic Engineers)
This book is core study for networking and covers almost everything that today's Information Technology expects from professionals. --Zameer Ahmad, LAN Manager, Bell Atlantic
A fantastic book. I've got all versions of this book and it keeps getting better and better! --John Clark, Professor, Computer Eng. Technology, Niagara College, Welland, Ontario, Canada
I can tell you are an engineer, not a salesman. It's nice to see common sense prevail. --John Galvin, Design Consultant, DIGISOLVE, Letchworth, Herts. England.
Your book makes a fantastic resource for creating executive summaries and briefing collateral for training material. --James W. Honey, VP, Marketing, SBE, Inc.
Please allow me to tell you what a tremendous asset your EON books have been. I have personally been responsible for the sale of at least 30 copies of the book based on my recommendations. Your book occupies the "most honored" position on my bookshelf (well... the second most honored position, next to my Bible). You have done a very thorough job on all the editions, and I use your book regularly. --Eric Craton, Dallas, GA
This book is fantastic, it's always by my side. Be it on a laptop or PC or just the book - Thanks. --Mike Mc Donald, Siemens UK
I am an Instructor in "Network Core Technologies" at a college here in Durham, UK. Your Encyclopedia is my main source of reference. My students find the book excellent because of its layout and down to earth text. The book is well written and easily understandable for ALL users. An excellent source of information. --Graeme Simpson, Instructor, Finchale Training College, Durham, UK
I bought this book early in 1998, right after it was released and I still think it is the number 1 reference book on Networking. The author is very well informed even about the latest novelties in networking. The book contains clear explanations combined with great quality drawings and networking diagrams. Great work! (November 1999)  --Peter van Herwaarden, Senior Partner, Atlas Consultancy & Networks (management consulting firm in the Netherlands)
This book is a great technical reference! I especially like the CD. It is so handy to have all of this technology installed on my computer for easy access. The graphics are great too.  --Brent E. Ledbetter, MCNE, Infrastructure Specialist, Electronic Data Systems, Dallas, Texas
May 27, 1999: Let me tell you that this is one of the best networking books I have ever seen. I've only had it for about an hour and I have already gotten clarification on a number of confusing issues. Great job!  --November 20, 1999: I am thoroughly impressed with your book and I look forward to seeing your new edition. I often used your book in my studies for the MCSE and I continue to use it on the job as an NT Systems Administrator.  --Mike Pilkington, MCSE, NT Systems Administrator, Landmark Graphics Corporation
If the "The Encyclopedia of Networking" doesn't have the information you need, and that's unlikely, the URL references are great and will generally enable you to track down the required.  --Neville Douglas, Project Manager (specialising in H/W & S/W , infrastructure), GIO Australia
I am an MCSE and MCT and often refer to your book for clarification of concepts I need to teach and I have referred many students to your web site.  --Patricia L. Hoskins, Technical Trainer, New Horizons Computer Learning Center, Austin, TX
I've recommended this book to everyone who is thinking about a career, working toward or already in the field of information technology. It clears up a lot of areas and does so using clear language. The best I've seen.  --David Santana, Systems Administrator, Doubleclick, Inc.
Just a quick note to say thanks for the support. I am using your reference material daily and find that I can use many sections as training tools.  --Kevin Bowyer, Regional Manager for Technical Support, Qwest Communications International
Great book! Let me know when the next edition comes out. I want one!  --Tim Hull, Director of Management Information Systems, EPIC, Yakima, WA
A very useful reference tool in the fast changing, global environment. In the rapidly converging disciplines of voice and data networks, I haven't found any other source that provides the coverage that EON provides. I am not speaking about just topics, but also the explanations, related entries, and information on the Internet. I keep wondering how you were able to do it. Please, notify me regarding future updates.  --Randy Johnson, Applications Engineer, Nokia IP Telephony Business Unit
The Encyclopedia of Networking was the best reference I could find as a student learning about networks. It offered easy to locate information and provided necessary links to more. It did more to help me understand networks than any text I was assigned.  --Joe Huggins, Southwest Memorial Hospital, Director Education/Telemedicine
Tom Sheldon's electronic edition of the "Encyclopedia of Networking" is a tour de force. Buy it, and you will have almost unconditional knowledge about networking at your finger tips! If you want information about how to network two quantum computers, you'll have to go back to graduate school. But if you want the background on how to get your job done, while still having fun, this is the book for you.  --Daniel Gold, Director of Research and Development, Intropy Inc.
Encyclopedia of Networking is a MUST for all network professionals. It incorporates the latest technologies with fundamental concepts.  --Ambrose Kam, Senior Network Design Engineer, MITRE Corp.
I have found the EON a valuable tool. I appreciate all the time that was committed to it.  --CR Douglas, chuckd at weirdness dot com
Tom Sheldon's encyclopedia of networking is a valuable tool to go through life in the connected enterprise. The techie who does not want irrelevant matter and the layman who wants to get his small company running and the journalist who wants to run stories regularly on the subject should come to Mr Sheldon book.  --Debasis P Roy, Chief Executive Officer
I can't say enough about how good this book is.  --Tommy Dees, LAN Analyst, Tinker Air Force Base, Oklahoma City
The Encyclopedia of Networking by Tom Sheldon has provided me with almost everything that an IT Networking Professional needs to know about, It has a broad range of topics with nearly all acronyms one needs to know even the most current developments in IT and Data communication world, it fulfils its role as the encyclopedia by providing the big pictures of global communication networks, which everybody need to comprehend as a basis, and to know which parts of the big Network they are in, so that they can understand in details the small parts of the Networks they are working in .  --Duc. M. Hoang, Reuters
I am a strategic planner for both systems and networking and just bought your book. It's fantastic! It is the most comprehensive book I have seen providing URLs, topologies, and of course explanations. Let me know when the next version is available as I want it!  --Hal Boyd, , Manager, KPMG LLP, E-Integration
This is one of the most complete and useful manuals I have ever seen and used. Complete and useful for the field but also as a source of information when studying. Looking forward to the next version. Please let me know so I can (again) advice my students to buy it!  --Ivo Brugman
Fantastic Book! I am very keen to keep up with any new developments.  --Jim Baker, Head of technology practice, Cartesian Limited
I'm a Technical Writer here in Taiwan for a company that produces modems, TAs and routers. I find your book invaluable for my research especially since linguistic barriers here make smooth communication more difficult. I particularly like the Search function for fast information retrieval and the related Internet URLs are great starting points for further research. The writing style is straight-forward without being facile while the diagrams thoughtfully complement the text. I'm looking forward to the next edition of the Encyclopedia of Networking in this fast moving ever changing field. Thank you.  --John Gallagher, Technical Writer, ZyXEL Communications Corporation
I'm weeding out ruthlessly my library contents, and no intention of letting "this" baby go anywhere. (I've the hardcover version, but it's otherwise identical to the paperback version, same date, same number of pages, same everything inside). The illustrations are often very helpful, and the contents clear and readable. I may never read but 10% of it with any real attention, but given that my work will be massively networked, it's comforting to have available a vetted, easy-read reference that covers virtually every aspect of networking, so that I can at least *know* of these issues in proper context for further research in depth as needed. That's nothing at which to sneeze. Plus, I did mention that it's clear and concise, didn't I? :)   --John W. Reed , [meme_engineer@chipmunkfactory.com]
In the course of my studies, I've had the chance to read a lot of so-called technically correct books, only to find so many errors I couldn't believe they made it into publication. They tend to do more harm than good. Yours was not only correct, but very easy to use. If your next edition holds up to the same standards of excellence as this version, it would be an honor to have it. Keep up the good work.  --Kenneth W. Dight, A+, NETWORK +, MCP+I, MCSE, CNE5, Oaklyn, NJ
I bought the book for my own private use, even though I refer to it a lot in my work. I have 2 positive comments about the book. With all the Telecom companies moving into Datacom, an area in which they lack a lot of competence, this book is essential for them to clear doubts about technical meanings and concepts. This book is an essential reference for technicians and managers like comic character Dilbert's Boss from author Scott Adams! I'm waiting for the 2000 edition!   --Miguel Guedes , Ericssson , Operations - Switching Implementation
Of all the books in the field this is far and away the most comprehensive, accurate and readable. In short it's the most useful book of its kind  --Mark Sealey, CEO MarkWorks Web Solutions.
I think your product is great and I use it often in my work and study! Let me know when the new book is published!  --Wade Thames, Systems Engineer / Pre-Sales Network Architect, Pacific Bell Network Integration (PBNI)
I found this book to be a very comprehensible study guide and an invaluable aid in helping me to understand the many terms found in Networking.  --Sharon Elliott
"The Encyclopedia of Networking" has been very useful as quick reference terminology and Web site references for additional information. It is a great addition to all the other resources that I read since they occasionally do not provide definition to some of their terms.  --Bob Johnstone, Data Infrastructure Product Manager, GTE NS
The Encyclopedia of Networking has been of great benefit in my work as part of Operations Production Support. I interface daily with network engineers. The 'encyclopedia' has helped me 'keep pace' with the engineering units.  --Steve Goldman, Chief Technical Specialist - Production Support, Empire Blue Cross and Blue Shield
Great book. Just what I need to help me ramp up and keep in touch with the many types of technology I encounter here at UUNET Web. I believe there are many others here who could benefit from your book. the book itself has been very useful to me in my job, and has provided me with a great resource not only for myself but in training new sales reps. The articIes are well written and thorough.  --Mark Saltzman, WWW Account Executive, UUNet Web Business Unit