Site home page
(news and notices)
Get alerts when Linktionary is updated
Book updates and addendums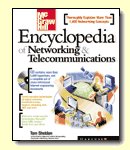 Get info about the Encyclopedia of Networking and Telecommunicatons, 3rd edition (2001)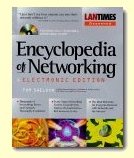 Download the electronic version of the Encyclopedia of Networking, 2nd edition (1996). It's free!
Contribute to this site
Electronic licensing info
OC (Optical Carrier)
Related Entries Web Links New/Updated Information
Note: Many topics at this site are reduced versions of the text in "The Encyclopedia of Networking and Telecommunications." Search results will not be as extensive as a search of the book's CD-ROM.
The existing method for carrying digitized voice signals over twisted copper wire is known as the NADH (North American Digital Hierarchy). This hierarchy defines levels of digital streams, starting with DS-0, which defines a single channel for carrying a digitized voice signal. DS-0 has a bit rate of 64 Kbits/sec. The next level up, DS-1, has a rate of 1.544 Mbits/sec and carries 24 DS-0 channels with some overhead. DS-3 consists of 28 DS-1 channels. See "NADH (North American Digital Hierarchy)."
STS (Synchronous Transport Signal) is a standard for defining high-capacity digital circuits. However, STS circuits are usually discussed as OC (optical carrier) circuits because the high data rates usually require fiber-optic cable. Table O-1 lists the STS hierarchy using the OC terminology. Keep in mind, however, that STS includes electric signals over copper cables, while the OC rates refer to optical signals over fiber-optic cable.
STS/OC Level

Data Rate
(Mbits/sec)

Number of DS0s

Number of DS1s

Number of DS3s

OC-1

51.84

672

28

1

OC-3

155.52

2,016

84

3

OC-6

311.04

4,032

168

6

OC-9

466.56

6,048

252

9

OC-12

622.08

8,064

336

12

OC-18

933.12

12,096

504

18

OC-24

1,244.16

16,128

672

24

OC-36

1,866.24

24,192

1,008

36

OC-48

2,488.32

32,256

1,344

48

OC-96

4,976.00

64,512

2,688

96

OC-192

9,952.00

129,024

5,376

192
Table O-1: Optical carrier rates
OCs are the digital hierarchies of the SONET standard, which defines a complete fiber-optic ring network built on the OC levels described next. SONET is a physical layer specification that defines dual-ring optical networks for metropolitan and long distance applications.
The letter "c" attached to the OC level indicates that the OC is not channelized (divided into multiplexed circuits), but that the entire bandwidth is used as a single channel. For example, OC-48c is a single 2.4-Gbit/sec channel.
OC-768 at 40Gbits/sec is on the horizon for SONET systems. Transmitters that can handle the rate are just emerging, as well as new types of fiber (see "Fiber-Optic Cable"). The transmission rates will limit the distance of the systems, and they will initially be deployed in metropolitan area networks. However, some vendors have said that OC-192 is the end of the road for SONET due to emerging optical networks that employ multi-wavelength DWDM (dense wave division multiplexing). See "Network Core Technologies," "Optical Networks," and "WDM (Wavelength Division Multiplexing)."
Copyright (c) 2001 Tom Sheldon and Big Sur Multimedia.
All rights reserved under Pan American and International copyright conventions.