Site home page
(news and notices)
Get alerts when Linktionary is updated
Book updates and addendums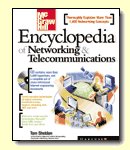 Get info about the Encyclopedia of Networking and Telecommunicatons, 3rd edition (2001)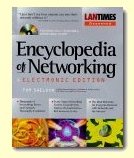 Download the electronic version of the Encyclopedia of Networking, 2nd edition (1996). It's free!
Contribute to this site
Electronic licensing info
Network Design and Construction
Related Entries Web Links New/Updated Information
Note: Many topics at this site are reduced versions of the text in "The Encyclopedia of Networking and Telecommunications." Search results will not be as extensive as a search of the book's CD-ROM.
Anyone who is tasked with designing or upgrading a network is faced with a job similar to making pigs fly. As mentioned in RFC 1925 (Fundamental Truths of Networking, April 1996), it can be done with enough thrust. When it comes to network design, just replace "thrust" with "bandwidth." If you're up late designing networks, refer to RFC 1925 for some entertainment.
This topic provides an overview of enterprise networking technology. It references related topics and provides pointers for designing networks. The three main areas to be concerned with in designing a network are as follows:
Infrastructure
The cabling system, network devices, and architecture design (topology) of the network

Routing and route management
Standard routing, cut-through routing, label switching, MPLS, and so forth

Control and management
Prioritization, QoS, and management
Note that WAN access networks and public network core technologies are discussed under "Network Access Services," "Network Core Technologies," "NPN (New Public Network)," and "Optical Networks."
This topic continues in "The Encyclopedia of Networking and Telecommunications" with a discussion of the following:
Cabling
Backbone network design
Switching environments
Hierarchical Wiring and Collapsed Backbones
Migration to multilayer switched network design
Multilayer Switching, Prioritization, and QoS
Server Farms, SANs, and NAS
The following topics are related to network services and how they may be designed into the network:



SAN (Storage Area Network)
Refer to the topic for information about networks designed specifically for storage devices.


Copyright (c) 2001 Tom Sheldon and Big Sur Multimedia.
All rights reserved under Pan American and International copyright conventions.