Site home page
(news and notices)
Get alerts when Linktionary is updated
Book updates and addendums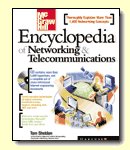 Get info about the Encyclopedia of Networking and Telecommunicatons, 3rd edition (2001)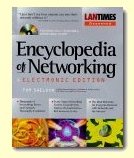 Download the electronic version of the Encyclopedia of Networking, 2nd edition (1996). It's free!
Contribute to this site
Electronic licensing info
NDS (Novell Directory Services)
Related Entries Web Links New/Updated Information
Note: Many topics at this site are reduced versions of the text in "The Encyclopedia of Networking and Telecommunications." Search results will not be as extensive as a search of the book's CD-ROM.
Novell NDS eDirectory is a platform-independent directory service with roots in the original NDS (Novell Directory Service) that was introduced with Novell NetWare 4.0. The latest version runs on NetWare, Windows 2000, Solaris, Linux, and Compaq Tru64 UNIX systems. NDS serves as a platform for directory-enabled services such as automated business-relationship management, supply-chain management, and electronic storefronts. Other services include automated provisioning, enhanced security, customer profiling, electronic wallets, automated notification systems, customized Web interfaces, and virtual private networks (VPNs).
NDS is designed not only for enterprise networks, but also for ASP (application service providers), ISPs (Internet service providers), and other organizations that need to maintain in-depth, hierarchically linked information about people and a range of "objects," including devices, applications, resources, and services. NDS has an extensible schema and hierarchical tree structure that makes it easy to manage nearly any type of object. LDAP (Lightweight Directory Access Protocol) is the native protocol used for interaction with other directory services.
NDS eDirectory helps unify Internet, intranet, and extranet resources by helping to extend the reach of existing infrastructure to customers and supply-chain partners in a secure way. DNS Federation is a feature that lets business partners manage objects in one another's directory trees. For example, you could assign a user in a supplier's company access rights to a database in your own company. No new object is required in your company database. Instead, you go to the user object in the supplier's directory and grant the rights.
DirXML provides a way to synchronize information in legacy directories. DirXML uses LDAP to connect with other directories and XML as a standard format for information exchange. It can be used to ensure consistent information among internal and external directories.
Due to the directory-oriented nature of NDS, managing security, certificates, cryptography, authentication, and other security technologies is easy. Users authenticate to the directory when they log on. Authentication is handled with passwords encrypted over SSL (Secure Sockets Layer) to X.509v3 certificates and smart cards. The login authentication service is based on the public-key/private-key encryption technology developed by RSA Data Security, Inc., which relies on a private key and a digital signature to verify the user's identity. Once authenticated, all further authentications are handled in the background.
NDS has always supported directory replication. The directory can be partitioned into replicas, and those replicas can be distributed to distant servers to improve initial logon for distant users and provide directory information that is physically closer to users, which is useful if the link to the central database goes down. Any part of the partition, including objects and their attributes, can be selectively copied and distributed.
Copyright (c) 2001 Tom Sheldon and Big Sur Multimedia.
All rights reserved under Pan American and International copyright conventions.