Site home page
(news and notices)
Get alerts when Linktionary is updated
Book updates and addendums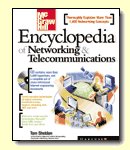 Get info about the Encyclopedia of Networking and Telecommunicatons, 3rd edition (2001)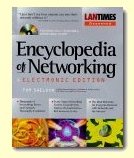 Download the electronic version of the Encyclopedia of Networking, 2nd edition (1996). It's free!
Contribute to this site
Electronic licensing info
Groupware
Related Entries Web Links New/Updated Information
Note: Many topics at this site are reduced versions of the text in "The Encyclopedia of Networking and Telecommunications." Search results will not be as extensive as a search of the book's CD-ROM.
Groupware is software that groups of people use together over computer networks and the Internet. It is based on the assumption that computer networks can help people increase their productivity by collaborating and sharing information. Electronic mail is a form of groupware. It lets users communicate with one another, coordinate activities, and easily share information. Electronic mail is the foundation and data transport system of many groupware applications.
Some example groupware applications are outlined here:
A scheduling program that schedules a group of people into meetings after evaluating their current personal schedules.
Instant messaging, which lets people contact one another in real-time via pop-up messages. Initially, these messages are typed, but as network bandwidth and multimedia capabilities improve, instant messaging will use voice and video. See Instant Messaging.
A network meeting application that allows users to hold meetings over the network. Attendees sit at their workstations and collaborate on a joint project by opening documents on the screen and working on those documents together.
A videoconferencing application that works in conjunction with the network meeting applications described above so attendees can see one another and collaborate on computers at the same time.
Groupware also comes in the form of bulletin board, interactive conferencing, threaded discussions, and chat room applications. These applications provide a place to post messages that other users see and can respond to, either in real time or over a period of time. All dialogs can be archived for future reference and users can respond to them at any time. The archive provides a record of events, activities, problems, and solutions that can be referred to at any time.
Chat and instant messaging are forms of synchronous communications. Like a voice telephone call, a chat or instant messaging session is live and each user responds to the other in real time. In contrast, discussion forums and electronic mail are asynchronous communications. Some amount of time may pass before a person responds to a message. In a discussion forum, a message sits in a message queue for other people to read and respond to at any time, or until the message falls out of the queue. These two forms of communication, which are accessible to any Internet user from just about any Web-attached system may be the most profound aspect of the Internet. They promote a new form of instant global communication and collaboration. In the case of discussion forums and email, delayed communication in which respondents have time to think about their response and gather information from other sources before responding.
Once groupware applications are in place and users begin to take advantage of them, traditional methods of communicating fall by the wayside. Meetings seem inconvenient due to travel and an inefficient use of time. In fact, meetings become events that take place over days with attendees making contributions via electronic mail or the bulletin board system.
Here are some expectations and advantages of groupware:
Groupware stimulates cooperation within an organization and helps people communicate and collaborate on joint projects.
Groupware coordinates people and processes.
Groupware helps define the flow of documents and then defines the work that must be done to complete a project.
Groupware provides a unique way for users to share information by building it into structured, compound documents. The document becomes the central place where shared information is stored.
Ideally, groupware should be able to help each person in a collaborative project perform his or her specific job in a more efficient way.
Ideally, groupware simply defines ways of using existing applications to share information and help users collaborate, rather than being a special application from a single vendor.
One aspect of groupware is called workflow, which combines electronic messaging with document management and imaging. The messaging system is used as a transport for documents flow sequentially through different processes. Accounting and procurement systems can use workflow management, for example. A document moves through various stages of processing by being sent to appropriate people who work on the documents, authorize the documents, and validate them. Part of this automated process is the use of digital certificates so that a person receiving a document knows that it is has come from an authorized person. See Workflow Management for more information.
Web-based Groupware
Web-based groupware (intranet software) is all the rage, and products are rapidly taking hold because they are generally inexpensive and take advantage of open Internet standards. Solutions like Notes and Exchange are seen as megalithic platforms that require large-dollar expenditures and lock users into proprietary solutions. The Internet and corporate intranets provide an ideal platform for deploying groupware.
One of the advantages of Web-based groupware is that the Web is basically blind to the computer platform being used by end users. Groupware servers can provide information to Web browsers in the form of HTML (Hypertext Markup Language), JavaScript, and other components. Web browsers have been designed for most computer platforms that can display this information.
Here are some of the features to look for in Web-based groupware:
Support for the NNTP (Network News Transfer Protocol) news readers, which can provide threaded discussions
POP mail client access
Support for directory services such as LDAP (Lightweight Directory Access Protocol)
Support component software such as Java
Replication of server-based information to other servers for backup purposes or to place replicated information closer to users at other locations
Applications features such as calendaring, discussion groups, news services, newspaper creation, file sharing, document versioning, and workflow capabilities
The use of security features to authenticate users and certify documents
The ability to create and support teams of users
There are, of course, many other features to look for. Keep in mind that Web-based groupware has limitations. A Web browser cannot provide some of the features you may have gotten used to if you run Windows or the Macintosh operating system, like drag-and-drop, certain menuing features, and right-mouse button behavior (in Windows). Also, administrators interested in security and the stability of applications may be more interested in the high-end proprietary platforms discussed in the previous section.
Enterprise Groupware Products
Three major vendors provide groupware packages that are all-encompassing collaborative computing products. Those vendors and their products are outlined here:
Lotus Notes and Domino
Lotus Notes was one of the first full-featured messaging and groupware products. It was built for client/server operations and uses the concept of object stores in which information is stored on multiple replicated servers. Domino adds HTTP (Hypertext Transfer Protocol) services and transforms Notes into an Internet application server. Domino also adds security features such as encryption. See Lotus Domino and Lotus Notes, or visit Lotus's Web site at http://www.lotus.com.
Microsoft Exchange Server
Microsoft Exchange Server provides many of the same features of Notes and Domino, including workgroup collaboration features, security, and more. See Microsoft Exchange for more information, or visit http://www.microsoft.com.
Novell GroupWise
This product is tied with NDS (Novell Directory Services), which may provide a strong incentive for choosing it over other products. Novell's Web site is at http://www.novell.com.
Additional groupware and workflow products are available from the following vendors:
| | |
| --- | --- |
| SoftArc | |
| Eastman Software | |
| ERoom Technologies | |
| Filenet (Panagon products) | |
| PaperClip Software | |
| Documentum (eBusiness products) | |
| MS2 Inc. | |
| Starbase | |
| WorkPoint Systems | |
Copyright (c) 2001 Tom Sheldon and Big Sur Multimedia.
All rights reserved under Pan American and International copyright conventions.