Site home page
(news and notices)
Get alerts when Linktionary is updated
Book updates and addendums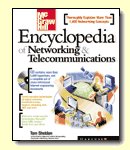 Get info about the Encyclopedia of Networking and Telecommunicatons, 3rd edition (2001)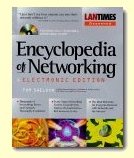 Download the electronic version of the Encyclopedia of Networking, 2nd edition (1996). It's free!
Contribute to this site
Electronic licensing info
Electronic Commerce
Related Entries Web Links New/Updated Information
Note: Many topics at this site are reduced versions of the text in "The Encyclopedia of Networking and Telecommunications." Search results will not be as extensive as a search of the book's CD-ROM.
Electronic commerce (e-commerce) has come to be associated with the buying and selling of goods on the Internet or, more specifically, the Web because it takes advantage of Web protocols. It involves customer-oriented processes like those used at online shopping malls, including the presentation of online catalogs, shopping cart schemes, and payment authorization schemes. This customer-oriented e-commerce is often called B2C (business to consumer).
Electronic commerce also includes business-to-business (B2B) transactions, such as automatic inventory reordering and the exchange of electronic documents (purchase orders, invoices, and soon). B2B is usually built upon VPN-based extranets. A VPN is a private connection across the Internet or some other network, secured by an encrypting tunneling protocol such as IPSec (IP Security). B2B may integrate EDI (Electronic Data Interchange), an older technique of exchanging electronic business documents, in order to access legacy system and data. EDI has now been integrated into newer Web protocols. See "EDI (Electronic Data Interchange)" for more information.
This topic continues in "The Encyclopedia of Networking and Telecommunications" with a discussion of the following:
E-commerce site architecture
Architecture illustrations showing data centers, firewalls, Internet connections, and extranet connections
Use of SSL (Secure Sockets Layer) and TLS (Transport Layer Security)
Extranet connections and the use of IPSec
Fault tolerance, high-availability, and load balancing
Security
Electronic payment schemes, including SET (Secure Electronic Transactions), JEPI (Joint Electronic Payment Initiative), and IOTP (Internet Open Trading Protocol)
Electronic wallets and micropayments
Use of XML (Extensible Markup Language) in electronic commerce
Electronic commerce frameworks and models, including EDI (Electronic Data Interchange), OBI (Open Buying on the Internet), IOTP (Internet Open Trading Protocol), BizTalk, OASIS ebXML, RosettaNet, and CBL (Common Business Library).
Organizations involved in ecommerce, including W3C (World Wide Web Coalition), FSTC (Financial Services Technology Consortium), VICS (Voluntary Interindustry Commerce Standards), Global Commerce Initiative, and Organization for Economic Cooperation and Development (OECD)
Copyright (c) 2001 Tom Sheldon and Big Sur Multimedia.
All rights reserved under Pan American and International copyright conventions.