Site home page
(news and notices)
Get alerts when Linktionary is updated
Book updates and addendums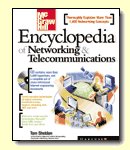 Get info about the Encyclopedia of Networking and Telecommunicatons, 3rd edition (2001)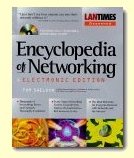 Download the electronic version of the Encyclopedia of Networking, 2nd edition (1996). It's free!
Contribute to this site
Electronic licensing info
Communication Controller
Related Entries Web Links New/Updated Information
Note: Many topics at this site are reduced versions of the text in "The Encyclopedia of Networking and Telecommunications." Search results will not be as extensive as a search of the book's CD-ROM.
A communication controller manages data input and output to a host computer or computer network. The units may be complex front-end mainframe interfaces or simpler devices such as multiplexors, bridges, and routers. The devices convert parallel computer data to serial data for transmission over communication lines and perform all the necessary control functions, error checking, and synchronization. The most recent devices perform data compression, route selection, security functions, and collect management information. Some examples are listed here:
Terminal servers provide a way to connect large numbers of terminals to host systems. The terminals connect into a single box that has a connection to the host over a network or remote link.
Front-end processors provide the connection of terminals and networks to host systems.
Multiplexors merge the data streams from a number of devices into a single line for transmission over long distances using various media.
Repeaters, bridges, and routers are used to interconnect local area networks.
In the IBM mainframe environment, a communication controller is an IBM 3705, an IBM 3720, an IBM 3725, or an IBM 3745. These devices provide a way to link cluster controllers at remote sites to an IBM host. There are two possible connection methods. In the first, the cluster controller at the remote site is connected via a telecommunication link to the communication controller at the main site, which is itself connected to the host. In the second method, the communication controller is at the remote site and provides a connection point for multiple cluster controllers. The communication controller then manages the flow of information from these cluster controllers over a telecommunication link to a communication controller at the main site, which is itself connected to the host. Communication controllers handle the following functions:
Establish communication sessions with terminals and network nodes
Manage data communication over communication links and control the flow of data
Concentrate cluster controller connections, and poll those controllers to see if they have data to transmit
Buffer incoming or outgoing data
Detect and correct errors
Provide routing functions to get data to its destination
The communication controller is often called a front-end processor because it is a separate device from the host system that handles all communication with external devices such as terminals. This frees the host computer from being continuously interrupted by external devices and allows it to process applications more efficiently.
A communication controller is really a computer in itself with a bus, memory, and CPU (central processing unit). It also contains the adapter to connect with the host channel and interface units that connect with the cluster controllers. The CPU manages the flow of information between the channel adapter and the interface units.
Copyright (c) 2001 Tom Sheldon and Big Sur Multimedia.
All rights reserved under Pan American and International copyright conventions.