Site home page
(news and notices)
Get alerts when Linktionary is updated
Book updates and addendums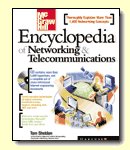 Get info about the Encyclopedia of Networking and Telecommunicatons, 3rd edition (2001)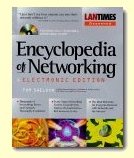 Download the electronic version of the Encyclopedia of Networking, 2nd edition (1996). It's free!
Contribute to this site
Electronic licensing info
Bell Modem Standards
Related Entries Web Links New/Updated Information
Note: Many topics at this site are reduced versions of the text in "The Encyclopedia of Networking and Telecommunications." Search results will not be as extensive as a search of the book's CD-ROM.
The Bell standards were the first modem communications protocols. The first of these standards was Bell 103, which paved the way for today's complex and efficient modem standards, such as V.32bis and V.42bis. While AT&T largely controlled the standardization of the original modem standards, the CCITT (Consultative Committee for International Telegraph and Telephone), established as part of the United Nations' ITU (International Telecommunications Union), controls most standardization today. The Bell standards are summarized here:
Bell 103
Supports 300-baud full-duplex asynchronous modem transmissions.

Bell 113A and 113D
A originates calls, and D answers calls.

Bell 201B
Supports synchronous 2,400-bits/sec full-duplex transmissions.

Bell 202
Supports asynchronous 1,800-bits/sec full-duplex transmissions.

Bell 208
Supports synchronous 4,800-bit/sec transmissions.

Bell 209
Supports synchronous 9,600-bit/sec full-duplex transmissions.

Bell 212A
Supports 1,200-bit/sec full-duplex transmissions (equivalent CCITT V.22 standard).
Many other standards have been developed since these initial standards, such as the CCITT "V dot" series standards. Microcom, a modem and communications software vendor, developed several standards on its own that have also come into widespread use or been integrated into ITU standards.
Copyright (c) 2001 Tom Sheldon and Big Sur Multimedia.
All rights reserved under Pan American and International copyright conventions.