Site home page
(news and notices)
Get alerts when Linktionary is updated
Book updates and addendums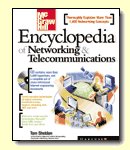 Get info about the Encyclopedia of Networking and Telecommunicatons, 3rd edition (2001)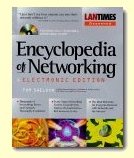 Download the electronic version of the Encyclopedia of Networking, 2nd edition (1996). It's free!
Contribute to this site
Electronic licensing info
Bandwidth Brokerage
Related Entries Web Links New/Updated Information
Note: Many topics at this site are reduced versions of the text in "The Encyclopedia of Networking and Telecommunications." Search results will not be as extensive as a search of the book's CD-ROM.
A bandwidth brokerage treats bandwidth as a commodity that is easily resold. Bandwidth brokerages are essentially clearinghouses for bandwidth on public networks. The brokerages take advantage of the fact that bandwidth is no longer under the grip of traditional telecom pricing schemes. Telecom deregulation, competition, and the growing availability of bandwidth have affected these schemes.
In another context, bandwidth brokers are "agents" that implement policy-based access control on intranets and the Internet as discussed in RFC 2768 (Network Policy and Services, February 2000). See "Policy-Based Management."
Clearinghouses make money by transacting bandwidth exchanges, usually between carriers and ISPs. Their goal is to make bandwidth trading easy. Clients can bid on the capacity they need or trade capacity they own but are not using. For example, a clearinghouse may post leased lines and telephone minutes for sale. Clients bid on the posting. The brokerage puts the bid winner together with a seller and charges a commission on the deal. Some brokerage services post the latest prices for leased lines and phone minutes, which network managers can use for comparison shopping.
Arbinet, in New York City, has developed what it calls the AGCN (Arbinet Global Clearing Network), which provides real-time authentication, authorization, least-cost routing, call placement, and settlement on a transaction-by-transaction basis. With AGCN, carriers gain access to information about the best rates and routing options without having to negotiate and contract separately with each supplier. According to Arbinet, AGCN members post for sale or purchase any capacity to any destination and attach specific parameters to define the conditions under which such trades will be authorized. The rest is performed automatically by the AGCN as it matches on a call-by-call basis any such available routes.
Copyright (c) 2001 Tom Sheldon and Big Sur Multimedia.
All rights reserved under Pan American and International copyright conventions.