Site home page
(news and notices)
Get alerts when Linktionary is updated
Book updates and addendums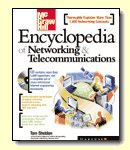 Get info about the Encyclopedia of Networking and Telecommunicatons, 3rd edition (2001)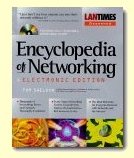 Download the electronic version of the Encyclopedia of Networking, 2nd edition (1996). It's free!
Contribute to this site
Electronic licensing info
Zero Administration for Windows Initiative
Related Entries Web Links New/Updated Information
Note: Many topics at this site are reduced versions of the text in "The Encyclopedia of Networking and Telecommunications." Search results will not be as extensive as a search of the book's CD-ROM.
The Zero Administration for Windows, or ZAWS, initiative is a Microsoft scheme for managing Windows-based network clients. It automates the task of operating system updates, application installation, desktop configuration, and user access. It allows users to "roam" from location to location while maintaining the same desktop because personal desktop preferences and application information is stored on central servers. The ZAWS initiative is designed to support small-footprint computers such as thin clients as well as other desktop systems.
Key capabilities enabled by the Zero Administration for Windows initiative are as follows:
Centralized administration and control of desktop computers, with the ability to lock down desktop configurations


Automatic operating system updates and application installations from a central location


Stateless desktop computing, with persistent central data storage


Side-by-side machine replacement in case of desktop hardware failure


Client-side ability to cache data, thus improving performance, reducing network traffic, and enabling work to continue if the network fails
All of these features allow users to run applications and access data from anywhere without the need to transfer files and applications between computers. ZAWS also helps to reduce help desk and support calls because users operate with a familiar desktop wherever they go and the desktop information is stored in a central location that support staff can both configure and troubleshoot. The desktop configuration can also be locked down to prevent users from changing it in a way that would make the desktop appear confusing the next time they log on.
Microsoft's IntelliMirror is a set of management technologies built into Windows 2000 that provides desktop change and configuration management. With IntelliMirror, user's data, personal computer settings, and computing environment follows them to other locations. Based on policy definitions, IntelliMirror is able to deploy, recover, restore or replace user's data, software, and personal settings in a Windows 2000-based environment. See "IntelliMirror."
Copyright (c) 2001 Tom Sheldon and Big Sur Multimedia.
All rights reserved under Pan American and International copyright conventions.