Site home page
(news and notices)
Get alerts when Linktionary is updated
Book updates and addendums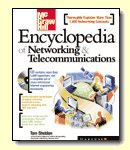 Get info about the Encyclopedia of Networking and Telecommunicatons, 3rd edition (2001)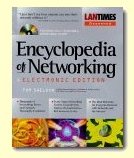 Download the electronic version of the Encyclopedia of Networking, 2nd edition (1996). It's free!
Contribute to this site
Electronic licensing info
Wiretapping
Related Entries Web Links New/Updated Information
Note: Many topics at this site are reduced versions of the text in "The Encyclopedia of Networking and Telecommunications." Search results will not be as extensive as a search of the book's CD-ROM.
Wiretapping is the act of tapping into a communication link to listen to a voice conversation or monitor and capture data. Wiretapping is relatively easy on network links. Network analyzers are designed to tap networks and monitor traffic. Anyone with such a device can easily filter out all unwanted traffic to monitor just the packets that they want to monitor, either legally or illegally. End-to-end encryption can secure data from wiretapping threats. Readers should refer to RFC 2804 (IETF Policy on Wiretapping, May 2000).
Copyright (c) 2001 Tom Sheldon and Big Sur Multimedia.
All rights reserved under Pan American and International copyright conventions.