Site home page
(news and notices)
Get alerts when Linktionary is updated
Book updates and addendums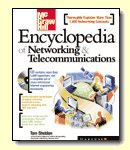 Get info about the Encyclopedia of Networking and Telecommunicatons, 3rd edition (2001)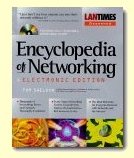 Download the electronic version of the Encyclopedia of Networking, 2nd edition (1996). It's free!
Contribute to this site
Electronic licensing info
UDDI (Universal Description, Discovery, and Integration)
Related Entries Web Links New/Updated Information
Note: Many topics at this site are reduced versions of the text in "The Encyclopedia of Networking and Telecommunications." Search results will not be as extensive as a search of the book's CD-ROM.
With the explosion in online business transactions and B2B (business-to-business) transactions, companies doing business on the Web need an easy way to discover one another and publish information that can be used to set up transactions. UDDI (Universal Description, Discovery, and Integration) is a standard that defines a common way for organizations to publish information about business services and provide other organizations with information that can be used to integrate business processes. UDDI is more than a directory. The UDDI Business Registry is an implementation of the UDDI specification in which organizations publicly list descriptions of services and methods of engagement. The UDDI specifications take advantage of Internet standards developed by the W3C and the IETF, including HTTP, DNS, XML, and SOAP. SOAP is a messaging specification originally developed by Microsoft but now promoted by the W3C.
Copyright (c) 2001 Tom Sheldon and Big Sur Multimedia.
All rights reserved under Pan American and International copyright conventions.