Site home page
(news and notices)
Get alerts when Linktionary is updated
Book updates and addendums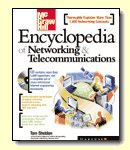 Get info about the Encyclopedia of Networking and Telecommunicatons, 3rd edition (2001)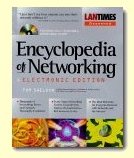 Download the electronic version of the Encyclopedia of Networking, 2nd edition (1996). It's free!
Contribute to this site
Electronic licensing info
T Series ITU Recommendations
Related Entries Web Links New/Updated Information
Note: Many topics at this site are reduced versions of the text in "The Encyclopedia of Networking and Telecommunications." Search results will not be as extensive as a search of the book's CD-ROM.
The T series recommendations are ITU standards that define multimedia data networks, particularly videoconferencing. A synopsis is given here. Refer to the ITU Web site listed on the related entries page for a complete list and a description of each recommendation.
T.0-T.107
Telematic services, facsimile standards, and videotex services, including coding, compression, and imaging

T.120-T.140
Multipoint data communication service for use in multimedia conferencing environments

T.170-T.176
Protocols for interactive audiovisual services, including coded representation of multimedia and hypermedia objects

T.190-T192
Cooperative document handling

T.411-T.441
ODA (Open Document Architecture) and interchange format, DTAM (Document Transfer And Manipulation).
Copyright (c) 2001 Tom Sheldon and Big Sur Multimedia.
All rights reserved under Pan American and International copyright conventions.