Site home page
(news and notices)
Get alerts when Linktionary is updated
Book updates and addendums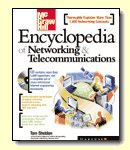 Get info about the Encyclopedia of Networking and Telecommunicatons, 3rd edition (2001)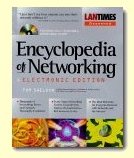 Download the electronic version of the Encyclopedia of Networking, 2nd edition (1996). It's free!
Contribute to this site
Electronic licensing info
SOCKS
Related Entries Web Links New/Updated Information
Note: Many topics at this site are reduced versions of the text in "The Encyclopedia of Networking and Telecommunications." Search results will not be as extensive as a search of the book's CD-ROM.
SOCKS is a circuit-level proxy gateway that provides security based on sessions (i.e., at the TCP layer). It provides a secure channel between two TCP/IP hosts-a SOCKS-enabled client on the internal network and an outside Web server. SOCKS provides firewall services, as well as auditing, management, fault tolerance, and other features. With SOCKS in place, an internal corporate network can be connected to the Internet in a way that allows internal users to access servers on the Internet while providing firewall protection against outside intruders. NEC Corporation has promoted SOCKS.
When a client needs to contact a Web server on the Internet, the request is intercepted by the SOCKS server. The SOCKS server relays this request to the target Web server. It may first evaluate whether the request is allowed based on predefined policies. When the response arrives from the Web server, the SOCKS server evaluates the packet before relaying it to the internal client. Thus, the SOCKS server can collect, audit, screen, filter, and control data flowing in and out of the network. SOCKS also provides the foundation for other critical networking services such as security, management, auditing, and accounting.
SOCKS 5 was created by a committee of industry supporters and submitted to the IETF for standardization. It extends SOCKS to include UDP, extends the framework to include provisions for generalized strong authentication schemes, extends the addressing scheme to encompass domain-name and IPv6 addresses. The primary focus was to provide strong authentication for inbound connections. This strengthens the security and gives network administrators better control of access to internal systems by public network users. A variety of negotiable authentication schemes can be used. SOCKS 5 also provides a secure way to run streaming audio and video across firewalls. More recently, SOCKS has emerged as a protocol for implementing policy-based networking at network borders.
SOCKS 5 is outlined in RFC 1928 (SOCKS Protocol Version 5, March 1996), RFC 1929 (Username/Password Authentication for SOCKS V5, April 1996), and RFC 1961 (GSS-API Authentication Method for SOCKS Version 5, June 1996).
Copyright (c) 2001 Tom Sheldon and Big Sur Multimedia.
All rights reserved under Pan American and International copyright conventions.