Site home page
(news and notices)
Get alerts when Linktionary is updated
Book updates and addendums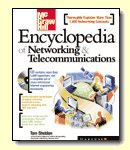 Get info about the Encyclopedia of Networking and Telecommunicatons, 3rd edition (2001)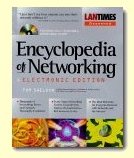 Download the electronic version of the Encyclopedia of Networking, 2nd edition (1996). It's free!
Contribute to this site
Electronic licensing info
SMB (Server Message Blocks)
Related Entries Web Links New/Updated Information
Note: Many topics at this site are reduced versions of the text in "The Encyclopedia of Networking and Telecommunications." Search results will not be as extensive as a search of the book's CD-ROM.
SMB is a high-level file-sharing protocol for exchanging information in the Microsoft Windows network environment. It is the native file-sharing protocol for Windows 95, Windows 98, Windows NT, and OS/2 operating system environments. It is also used in pre-Windows 95 versions of the Windows operating system for file sharing across networks. The new CIFS (Common Internet File System), which allows file sharing across the Internet or intranet, is based on SMB. SMB is also widely available in the UNIX and VMS environments in the form of Samba. See "Samba" for more information.
SMB provides redirector services that allow a client to locate files on other network computers running SMB and open, read, write to, and delete those files. NetBIOS is used to establish logical connections, or sessions, between networked computers. NetBIOS also uses a unique logical name to identify workstations on the network. Once a session is established, a two-way conversation takes place in which the following types of SMB messages are exchanged:
Session control
Commands that start and end a redirector connection to shared resources at a server

File
Messages to gain access to files at a server

Printer
Messages to send print jobs to shared printers or get information about print queues

Message
Provides a way to send messages to or receive messages from other network-attached workstations
Copyright (c) 2001 Tom Sheldon and Big Sur Multimedia.
All rights reserved under Pan American and International copyright conventions.