Site home page
(news and notices)
Get alerts when Linktionary is updated
Book updates and addendums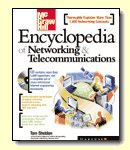 Get info about the Encyclopedia of Networking and Telecommunicatons, 3rd edition (2001)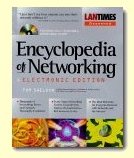 Download the electronic version of the Encyclopedia of Networking, 2nd edition (1996). It's free!
Contribute to this site
Electronic licensing info
isoEthernet
Related Entries Web Links New/Updated Information
Note: Many topics at this site are reduced versions of the text in "The Encyclopedia of Networking and Telecommunications." Search results will not be as extensive as a search of the book's CD-ROM.
The isoEthernet standard (IEEE 802.9a) is a combination of Ethernet and ISDN (Integrated Services Digital Network) on the same cable. It provides 16.144-Mbit/sec throughput. Through the use of multiple dedicated circuits, it provides a 10-Mbit/sec Ethernet channel and 96 ISDN B-channels of 64 Kbits/sec. At the time of its development, IsoEthernet seemed like a good idea for providing voice and data over the same wire, but Fast Ethernet and Gigabit Ethernet, along with CoS (Class of Service) and QoS (Quality of Service) developments, have lessened interest in isoEthernet.
Copyright (c) 2001 Tom Sheldon and Big Sur Multimedia.
All rights reserved under Pan American and International copyright conventions.