Site home page
(news and notices)
Get alerts when Linktionary is updated
Book updates and addendums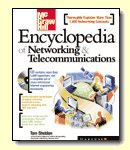 Get info about the Encyclopedia of Networking and Telecommunicatons, 3rd edition (2001)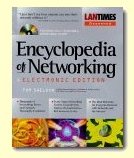 Download the electronic version of the Encyclopedia of Networking, 2nd edition (1996). It's free!
Contribute to this site
Electronic licensing info
IPP (Internet Printing Protocol)
Related Entries Web Links New/Updated Information
Note: Many topics at this site are reduced versions of the text in "The Encyclopedia of Networking and Telecommunications." Search results will not be as extensive as a search of the book's CD-ROM.
IPP is a protocol that supports remote printing in distributed environments. For example, IPP allows a user to print a document on a printer at another geographic location by choosing print options from a Web browser or by specifying an Internet URL. The idea is to provide users with the same printing controls and concepts that they use to print locally or to LAN-attached printers. IPP printing services can show the location of available printers, or allow users to inquire about printer capabilities and printer status. You can also choose printers interactively. The protocol supports installation, configuration, print job submission, and other management features, with appropriate security.
IPP may be embedded in a single physical output device, in which case clients talk directly to the printer. In addition, a printer server may support multiple IPP printer objects, where each printer object is associated with exactly one physical output device supported by the server. Finally, a printer server may support multiple physical output devices. All of these printers are similar and the server distributes print jobs to any available printer. Users see the array of printers as a single device.
In designing IPP, the needs of end users, operators, and administrators were considered, as outlined here:
End users need to find or locate printers by name, location, or capability, create an instance (object) of the printer in their local operating system, view the status and capabilities of a printer, submit print jobs, view the status of print jobs, and cancel print jobs.


Operators manage printers that accept print jobs through the Internet. They are responsible for making sure the printer has paper and toner and is working properly. IPP must alert operators of a need for service.


Administrators are responsible for creating the printer instances and controlling which end users and operators are authorized to use and manage the printer. Administrators need tools, programs, and utilities to manage users and operators, manage print job features, manage security, and so on.
The IETF Internet Printing Protocol (ipp) Working Group is developing the IPP protocol. For more information, refer to http://www.ietf.org/html.charters/ipp-charter.html.
Copyright (c) 2001 Tom Sheldon and Big Sur Multimedia.
All rights reserved under Pan American and International copyright conventions.