Site home page
(news and notices)
Get alerts when Linktionary is updated
Book updates and addendums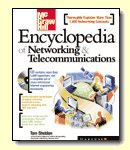 Get info about the Encyclopedia of Networking and Telecommunicatons, 3rd edition (2001)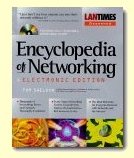 Download the electronic version of the Encyclopedia of Networking, 2nd edition (1996). It's free!
Contribute to this site
Electronic licensing info
Internet Connections
Related Entries Web Links New/Updated Information
Note: Many topics at this site are reduced versions of the text in "The Encyclopedia of Networking and Telecommunications." Search results will not be as extensive as a search of the book's CD-ROM.
"Connecting to the Internet" means different things to different people. There are users (i.e., subscribers and consumers of information) of Internet services and providers of Internet services (Web sites, ecommerce sites, and so on). If you are a "user" of Internet services, then connecting to the Internet is relatively simple. You contact an ISP in your area and discuss the type of connections that are available. Connection types include dial-up modem access, cable modem access, wireless, and other services. See "MAN (Metropolitan Area Network)," "Network Access Services," and "WAN (Wide Area Network)."
According to RFC 1775 (To Be 'On' the Internet, March 1995), there are four types of Internet users. Full access users have permanent Internet connections with IP addresses that are visible to other Internet users. Client access is an indirect access method through a firewall, proxy server, or protocol translation device. Mediated access is a terminal-like service in which applications are run on Web-based servers and files are stored on Internet systems. Finally, messaging access is a noninteractive service level in which users access is limited to electronic mail and network news services.
Connections for enterprise networks and ISPs are more complex. There are a number of administrative procedures for networks seeking to connect to the global Internet, including the steps and operations necessary for address space allocation and registration, routing database registration, and domain name registration. These networks include ISPs (with many subscribers) and large organizations (with many internal users).
This topic continues in "The Encyclopedia of Networking and Telecommunications" with a discussion of the following:
Administrative procedures for connecting to the global Internet

Applying for a domain name
Designating adminsitrative contact info for the Internet registry database
Connection strategies
Determining IP address requirements
Determining Autonomous System Number (ASN) requirements, if any
Registering domain names and configuring reverse address resolution
Copyright (c) 2001 Tom Sheldon and Big Sur Multimedia.
All rights reserved under Pan American and International copyright conventions.