Site home page
(news and notices)
Get alerts when Linktionary is updated
Book updates and addendums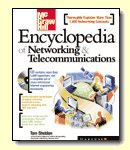 Get info about the Encyclopedia of Networking and Telecommunicatons, 3rd edition (2001)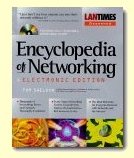 Download the electronic version of the Encyclopedia of Networking, 2nd edition (1996). It's free!
Contribute to this site
Electronic licensing info
H Series ITU Recommendations
Expanded version: contains additional text not in the book
Related Entries Web Links New/Updated Information
Note: Many topics at this site are reduced versions of the text in "The Encyclopedia of Networking and Telecommunications." Search results will not be as extensive as a search of the book's CD-ROM.
The H series recommendations are ITU standards that define audiovisual and multimedia systems. There are too many recommendations in the series to list here. A synopsis is given below. Refer to the ITU Web site listed on the related entries page for a complete list and description of each recommendation. H.323 is perhaps the most important H series recommendation. It describes voice and video (multimedia) over packets-switched networks (the Internet). See "H.323 Multimedia Conferencing Standard" for more information.
H.100 to H.140
Visual telephone system, videoconferencing, codecs
H.200
Framework for recommendations for audiovisual services
H.221 to H.226
Transmission multiplexing and synchronization in audiovisual services
H.230 to H.235
Systems aspects of audiovisual services (frame synchronization controls, multipoint controls, confidentiality systems, encryption, security)
H.242 to H.247
Communication procedures for audiovisual services (communication setup, multimedia control protocols, broadband audiovisual)
H,261 to H.263
Coding of moving video for audiovisual services (video codecs)
H.281
Camera control protocol for videoconferencing
H.310 to H.332
Systems and terminal equipment for audiovisual services (packet-based multimedia)
Copyright (c) 2001 Tom Sheldon and Big Sur Multimedia.
All rights reserved under Pan American and International copyright conventions.