Site home page
(news and notices)
Get alerts when Linktionary is updated
Book updates and addendums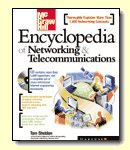 Get info about the Encyclopedia of Networking and Telecommunicatons, 3rd edition (2001)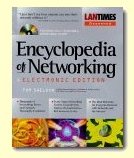 Download the electronic version of the Encyclopedia of Networking, 2nd edition (1996). It's free!
Contribute to this site
Electronic licensing info
DMTF (Distributed Management Task Force)
Related Entries Web Links New/Updated Information
Note: Many topics at this site are reduced versions of the text in "The Encyclopedia of Networking and Telecommunications." Search results will not be as extensive as a search of the book's CD-ROM.
The DMTF was founded in 1992 by a group of vendors, including Digital Equipment Corporation (now Compaq), Hewlett-Packard, IBM, Intel, Microsoft, and Novell. The DMTF changed its name from "Desktop Management Task Force" to "Distributed Management Task Force" in May of 1999.
The goal of the DMTF is to deliver management standards and initiatives for desktop, enterprise, and Internet environments. The DMTF manages the following initiatives and standards:
DMI (Distributed Management Interface)
A common management framework for desktop systems. See "DMI (Distributed Management Interface)."

CIM (Common Information Model)
An object-oriented specification for collecting and sharing enterprise-wide management information. CIM has rapidly become the leading management information model.

WBEM (Web-Based Enterprise Management)
An initiative that uses Web technologies to manage systems. Web browsers are used as management interfaces, CIM is the inventory model, and XML is the data interchange format.

DEN (Directory Enabled Networks)
An initiative to develop standard directory schema and interoperable directory services. Through DEN, managers use directory services to manage network services such as QoS, network addressing, and network policies.
Copyright (c) 2001 Tom Sheldon and Big Sur Multimedia.
All rights reserved under Pan American and International copyright conventions.