Site home page
(news and notices)
Get alerts when Linktionary is updated
Book updates and addendums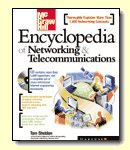 Get info about the Encyclopedia of Networking and Telecommunicatons, 3rd edition (2001)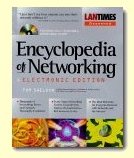 Download the electronic version of the Encyclopedia of Networking, 2nd edition (1996). It's free!
Contribute to this site
Electronic licensing info
Data Protection
Related Entries Web Links New/Updated Information
Note: Many topics at this site are reduced versions of the text in "The Encyclopedia of Networking and Telecommunications." Search results will not be as extensive as a search of the book's CD-ROM.
Besides people, data is the most important asset to most organizations. Everything else can be replaced. If systems are destroyed, you can replace hardware in a day, but you can't bring your network back up and running if you don't have proper data backups. In addition, if your company is like most, even a day of downtime is intolerable, and thousands or millions of dollars could be lost while a system is not operating. The following list outlines some measures for protecting systems and data:
Data backup
Data backup is essential, whether data is copied to other hard drives, tapes, optical disks, or even systems in other locations. See "Backup and Data Archiving."

Theft protection
Theft of equipment can cause serious downtime, even if data has been backed up, considering replacement and reconfiguration costs. You can bolt equipment to desktops and floors, lock equipment in special rooms, and hire staff to look over equipment 24 hours a day. See "Security."

Protecting against fire and natural disasters
Consider installing special fire-prevention equipment, such as halon gas systems, to reduce fire loss. To protect against natural disasters, consider what is necessary to protect the physical infrastructure. Alternative data centers may be necessary. Gasoline-powered generators can supply power to servers and workstations when electricity is cut off.

Recovery
In the event of a physical security breach, hacker attack, fire, earthquake, or other disaster, you need to get systems back online as soon as possible. There are various resources available to help you do this. See "Disaster Planning and Recovery."

Management style
There are advantages to both centralized management and distributed management. To centralize management, move network resources-servers, hubs, switches, routers, and other equipment-to central locations where trained staff can manage the systems in secure and protected areas. However, doing so puts you at greater risk of catastrophes such as earthquakes and fires. An alternative is to distribute network resources and automatically replicate data to remote sites on a regular basis. Use high-speed data links between the sites. See "Data Center Design" for more information.

Fault tolerance
Network components should be protected against failure with techniques such as disk mirroring, disk duplexing, server duplexing, clustering, load balancing, replication, and a variety of other techniques, including the construction of multiple data centers. See "Fault Tolerance and High Availability" for more information.

Diskless devices
Diskless workstations don't have disk drives, so users can't download valuable company data or upload information in an unsupervised environment. See "Diskless Workstations" and "Thin Clients."

Security
Intruders may physically attack your system or gain access across unsecure networks. See "Security" for a discussion of this topic and links to other topics. Also see "Firewall" and "Virus and Antivirus Issues."

Administration
Network administrators need to know all the ins and outs of network operating systems and their security features to protect against attacks, mismanagement, and data corruption or loss.

Network management
Network management systems can spot problems before they occur and help improve performance so that users are better serviced. See "Network Management."

Training
Properly trained users are your best resource against security breaches, attacks, mistakes, lost data, and so on.

Tracking and auditing
Be sure logs and tracking utilities are enabled so you can track down problems after they occur. See "Auditing" and "Security Auditing."
Copyright (c) 2001 Tom Sheldon and Big Sur Multimedia.
All rights reserved under Pan American and International copyright conventions.