Site home page
(news and notices)
Get alerts when Linktionary is updated
Book updates and addendums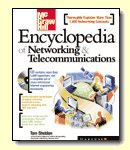 Get info about the Encyclopedia of Networking and Telecommunicatons, 3rd edition (2001)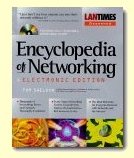 Download the electronic version of the Encyclopedia of Networking, 2nd edition (1996). It's free!
Contribute to this site
Electronic licensing info
Configuration Management
Related Entries Web Links New/Updated Information
Note: Many topics at this site are reduced versions of the text in "The Encyclopedia of Networking and Telecommunications." Search results will not be as extensive as a search of the book's CD-ROM.
Configuration management covers a wide range of network administration topics. It is often referred to as a practice for software development, but this topic is about network management.
In its simplest form, configuration management has to do with collecting and storing information about devices on the network (i.e., bridges, routers, workstations, servers, and other equipment). Administrators can refer to this information when changing configurations or to determine the cause of some failure. The database can hold important infrastructure information, such as physical connections and dependencies. In advanced systems, changes made to a central database automatically affect network devices. For example, changing a subnetwork number updates all the appropriate devices connected to that subnetwork.
Configuration management also deals with issues like password management, printing configurations, and user or group management. It also may provide software installation, updates, and reconfiguration from a single location. Version numbers and licensing can be tracked and updated.
On the hardware side, configuration management provides a way to configure systems once new hardware is installed and to report this information to dependent systems. Information such as serial numbers, settings, and version information are reported back to the management database. Once the management system knows where hardware is located, it can automatically update drivers and driver updates.
Microsoft's IntelliMirror is a set of management technologies built into Windows 2000 that provides desktop change and configuration management. With IntelliMirror, user's data, personal computer settings, and computing environment follows them to other locations. Based on policy definitions, IntelliMirror is able to deploy, recover, restore or replace user's data, software, and personal settings in a Windows 2000-based environment. See "IntelliMirror."
Copyright (c) 2001 Tom Sheldon and Big Sur Multimedia.
All rights reserved under Pan American and International copyright conventions.