Site home page
(news and notices)
Get alerts when Linktionary is updated
Book updates and addendums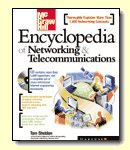 Get info about the Encyclopedia of Networking and Telecommunicatons, 3rd edition (2001)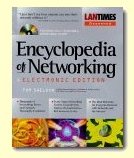 Download the electronic version of the Encyclopedia of Networking, 2nd edition (1996). It's free!
Contribute to this site
Electronic licensing info
CDPD (Cellular Digital Packet Data)
Related Entries Web Links New/Updated Information
Note: Many topics at this site are reduced versions of the text in "The Encyclopedia of Networking and Telecommunications." Search results will not be as extensive as a search of the book's CD-ROM.
CDPD (Cellular Digital Packet Data) provides packet-switching data services on wireless analog cellular systems such as AMPS. CDPD is sometimes called wireless IP, although that term now means much more, as discussed under the "Wireless IP". CDPD handles the types of bursty traffic that are common with network-connected users, such as short exchanges of information like electronic mail or database queries. Data is sent in packets across a wireless circuit that is shared by other users, or across any channel that is idle. Users are billed in subminute billing units to accommodate short data bursts. For more information, see "Wireless Mobile Communications."
Copyright (c) 2001 Tom Sheldon and Big Sur Multimedia.
All rights reserved under Pan American and International copyright conventions.