Site home page
(news and notices)
Get alerts when Linktionary is updated
Book updates and addendums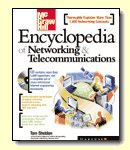 Get info about the Encyclopedia of Networking and Telecommunicatons, 3rd edition (2001)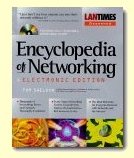 Download the electronic version of the Encyclopedia of Networking, 2nd edition (1996). It's free!
Contribute to this site
Electronic licensing info
Active Directory
Microsoft's Active Directory is the directory service included with Windows 2000 Server. Windows 2000 is the successor to Windows NT Server 4.0. Active Directory extends the feature set found in Windows NT domain services and adds new features. It is a secure directory database that can be partitioned and distributed via replication throughout the network. Active Directory is also scalable, and is designed to work in an environment with thousands of servers and millions of objects.
See the following for more information:
Copyright (c) 2001 Tom Sheldon and Big Sur Multimedia.
All rights reserved under Pan American and International copyright conventions.