Site home page
(news and notices)
Get alerts when Linktionary is updated
Book updates and addendums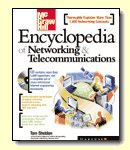 Get info about the Encyclopedia of Networking and Telecommunicatons, 3rd edition (2001)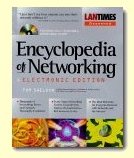 Download the electronic version of the Encyclopedia of Networking, 2nd edition (1996). It's free!
Contribute to this site
Electronic licensing info
Acrobat
Related Entries Web Links New/Updated Information
Note: Many topics at this site are reduced versions of the text in "The Encyclopedia of Networking and Telecommunications." Search results will not be as extensive as a search of the book's CD-ROM.
Acrobat is a product from Adobe Systems Incorporated that strives to be a universal document formatter and viewer. You can create document layouts and formats using any variety of typefaces, font sizes, layouts, and graphical information and then save those documents in Adobe Portable Document Format (PDF), which can be read by an Acrobat reader. Many documents available on the Internet and Web are available for download as Acrobat documents. Note the following:
Acrobat is designed to assist companies in distributing their documents over the Internet, on disk and CD-ROM, or via electronic mail messages. Adobe also recommends Acrobat for long-term archiving of documents.


You use the Acrobat toolset to create Acrobat documents. It costs about $250 and is available for Windows and Macintosh platforms. The toolset includes tools for converting files created in other applications into the Adobe PDF format. Converted files have the PDF filename extension.


Acrobat readers are free and available at the Adobe site or at most sites that provide Acrobat files for downloading.


Acrobat readers are available for Windows, Macintosh, Linux, and a variety of other UNIX systems.


PDF files support security options and digital signatures to protect documents from unauthorized tampering, copying, or printing.


Web site designers can create forms with PDF files.
Copyright (c) 2001 Tom Sheldon and Big Sur Multimedia.
All rights reserved under Pan American and International copyright conventions.